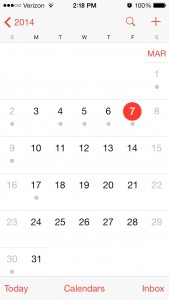 They showed up as dots on the calendar app on my phone. Being a freelance musician, you want to see lots of dots…as many as possible. But these represented what you never want…
It's thankfully been a busy time of late. I had finished a session and was thinking about what was next on the to-do list. I opened my calendar and noticed the aforementioned entries.
March 6 all day. Jerry's passing...
March 7 all day. Mom's passing…
Life was moving so quickly. How quickly we can almost miss remembering those we've lost through the days and years.
I've written many times about my family. My two oldest brothers and sister were from a previous marriage, but Dad never made any distinctions between them and us. They had different last names but we were still family.
Being the youngest of seven, I never really knew my brother Jerry very well. He was 16 years older than me and was already grown and gone. He served in the navy during the war and moved to the Midwest in later years. He was this cool and mysterious cowboy guy that we never saw enough of before we lost him in 2005. His kids talk about him with such love and affection. I mourn not only losing him but the great life I never got to share.
The death of a parent is never easy. I have written on several occasions about the passing of my Dad. But losing the woman who carried you, and nurtured and raised you…my God. There are no words to tell this tale. Perhaps one of the most difficult moments in my life was standing before family and friends, singing my song about trust, in the shadow of the death of my mother. God knows I trust Him, but I'm angry at times and have so many questions. He can handle my anger, and the answers will come in due time. Or not at all. Life is not always storybook endings and answered questions.
There are many moments when my life feels like a riddle still waiting to be solved.
But I can wrestle with God about anger and questions and answers because of yet another dot on my calendar.
This Sunday marks the day when thirty-nine years ago I made the decision to trust in Christ. My life to that point wasn't a riddle. It was all too easy to see the direction I was heading. Eastern mysticism, a dangerous flirtation with the occult, and deep woundings was a recipe for the inevitable. A life dominated by darkness.
That day turned the tide in many ways. That summer I found music, and a call that is still ringing from all those years ago.
Life is still not easy. There have been choices made along the way that haunt my path. It's still a riddle at times, and God still is the object of my anger when questions and doubts overwhelm.
The Bible tells us that God is love. This I know and believe to be true. When true Love enters the room, the atmosphere changes. Hearts swell and overflow. Life still happens and questions remain.
But when Love is in the room, Grace is not far away.
Thank you, Father for the gift of this day. Thank you for the people and love you give, and for the dots that remind us of them…
…and You.