Preface:
I have been attempting to complete this post for a week now. Originally intended as a way to remember the passing of my father, I thought that it would be a simple matter of speaking my heart.
Sometimes the heart loses heart and loses the words to say. It speaks when ready…

This is a post about freedom.
I had never heard of a 'division bell' until Pink Floyd released a CD of that name in 1994. The title comes from a lyric in the final cut "High Hopes."
Beyond the horizon of the place we lived when we were young
In a world of magnets and miracles
Our thoughts strayed constantly and without boundary
The ringing of the division bell had begun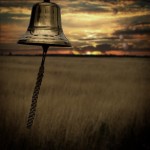 Mysterious and atmospheric imagery, to be sure. Ambiguous at best, in best Floydian fashion. The general theme of communication is reflected in the choice of name for the album; The Division Bell was inspired by the division bell rung in the British parliament to indicate that a vote is to take place. Drummer Nick Mason expanded on this, when he said "it does have some meaning. It's about people making choices, yeas or nays."
Choices. Yea or nay. Life never strays far off this path of yes or no.
Four years ago my father slipped away from his failing body and stepped into the new skin of eternity. I miss him terribly…but his passing has haunted me these days past. I have written of my father before, and have described my last moments with him. I have confessed the thing that came between us, and divided us for a time.
He was a man of courage and conviction. He wasn't perfect and had his share of fears and falls. My pride almost prevented me from bridging our divide. Sadly, this division was more about my own pain than any real hurt my father inflicted.
I remember the lone drive to his hospital in Florida, and all the things running through my mind that I would tell him. I wanted to say so much…yet still I lacked the courage to admit to him my wound and pain.
I hear the sounds of the ICU still. The muted voices of nurses and doctors from the hallway. The low hiss of the oxygen being fed to my father's lungs. The hum of the monitoring equipment, and the erratic rise and fall of his breathing. A beep breaks the silence.
I had come alone that final day to say my farewell. Life was calling me back from death. The world was still turning and I had to get back.
But in my last moments with him, I heard the division bell…calling me to a choice.
As my father lay dying, all the hurt and pain faded from memory. My choice was clear. I told him of my love and how proud I was to be called his son. These final words fell on unresponsive ears…yet the face of my father was wet with tears. The ringing of his Division Bell had begun, calling my father to leave fear and hurt and pain…and to embrace freedom.
I love you, Dad…