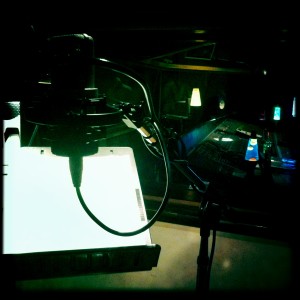 Psalm 150. The favorite psalm of musicians. This last entry in a collection of songs about God (and praise and life and death and hope and love and loss) is perhaps the most fitting and powerfully succinct chapter in the Bible for those of us who play and sing.
Ahh… there it is. Play and sing. For 38 years now I've been a Christ-follower (who doesn't always follow so well) and musician. In fact, accepting Christ into my heart and life was followed almost immediately with what I believe to be a God-inspired passion to play music to, for, and about Him.
And while 38 of my almost 51 years of life have been spent playing music, there is a part of being a musician that I've both missed and regretted in the most powerful and terrible way.
I want to sing.
According to my research, the Bible commands or at least strongly suggests we sing (about 200 times in scripture!). It doesn't say 'sing well' but in fact to '… make a joyful noise'. Well, that much I've always been able to accomplish!
I love writing, recording, and playing music, and for decades I've been outwardly content to 'sing' through my instrument. If you have ever seen me playing live, you'll see that I'm up there singing away. And while I have been known to do the occasional harmony part, I've never had the courage to step up to the microphone and sing.
In my high school days, my youth pastor approached me to sing a solo for one of our student choir songs. I don't have the words to describe the abject terror I felt at the thought of singing a solo!! He tried his best to convince me I could handle this probably very simple tune… but I refused to budge and gave into my fear.
It was a decision that I've regretted ever since.
It's not about being The Singer. And it's not even about being more 'marketable' as a musician. It's about the words and melodies that God regularly burns into my heart and soul and simply must be sung.
Through the years I've had the honor and privilege to work some simply amazing vocalists. From well-known to unknown, I've watched and listened first hand to the incredible sounds and truths that erupt from their mouths and find lodging in the hearts of the people listening. So I've convinced myself that I don't really need to sing… I can just get someone else to do it.
But leave it to God to not let me off the hook so easily. Recently I reconnected with an old friend (from the very same student choir back in the day) who is both an incredible singer but also a gifted vocal coach. I'm producing a project for a friend of mine and we both agreed it would be great to find a coach to ensure we would get the best vocal performance possible.
As we recorded the final vocals, God was literally hammering me in that way of His… (ok, so it takes a lot to get my attention). He's telling me that even at 51, He has a task for me still… and it will require trust and a stretching of my faith to overcome my fears.
He wants me to sing.
While I know I'll never sing like the incredible singers I both love and admire and work with, God is challenging me to step up and at least make an attempt… and sing.
So, this is my way of asking for prayer, and a way to be accountable to His command. Later today (Friday), I'm meeting with my vocal coach friend.
I already know what he'll say.
Stand up straight.
Breath deep.
Open my mouth…
And sing!
It may be noise… but I'll be joyful!
"Let everything with breath praise the Lord!" Psalm 150:6
More to come…
GV