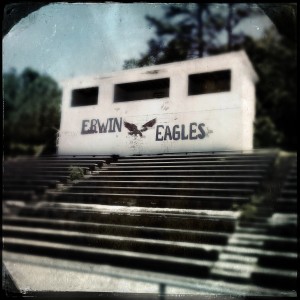 I used to be a runner.
That may be difficult to believe, especially given my current girth and atomic weight…okay, perhaps atomic is too far. Nonetheless, I am "more man" than I've ever been.
And you'd never wager that a kid born with a club foot, with more surgeries you could shake a crutch at, would have a chance to run track…in junior high no less.
But truth is always stranger than fiction. In the days before music captured me, I loved to run and walk, literally for miles. Most Saturdays would find me walking or riding my bike from my house in Center Point to a bookstore I loved in Huffman (about 5 miles each way).
In junior high, I loved when track season came in PE. It was great to be outside, but it was just thrilling to do something where I actually didn't suck! We did the entire package of races and sprints, etc. I think the coaches liked to see who might be potential candidates for the school track team. I loved the short distance events, as I never had the stamina or patience to do the long-distance stuff. I'd burn out early, invariably wanting to lead the pack, only to watch as the smarter and more disciplined runners would pass me by, one by one.
Despite counsel and encouragement from my PE coach to run smarter, and to even try out for the track team, it was my stupid pride and lack of belief that cost me that dream.
I may have more in common with Forrest Gump than I want to admit, but I can no longer 'run like the wind blows…'
I used to run…
Now I've found myself in a different race. Music has been my life and love for 40 years…ironically, the ultimate marathon.
But I've come to a strange and unexpected moment:
You realize that you haven't been in a marathon.
You wake up to find yourself in a relay race, and you've passed the baton about a hundred yards back.
And you've continued to run anyway, empty-handed.
Running on empty indeed…
What remains is to watch others race ahead, breaking the tape…and winning the prize.
Postscript:

It's been a couple of hours since I completed this entry, and I've re-read it more than a few times.
The ending is bulls**t.
Despair evokes a multitude of feelings and emotions. There is a part of me that wants to lay down the burden, to drop out…just simply give up.
But there is also a part of me that is deeply angry at the very thought of giving up what I've based my beliefs and my very life upon. I don't want to give up. Every race ends and you can't win sometimes. But no one enters a race to lose.
So I live between the struggle to bow to the inevitable, or to feel the finish line tape breaking across my chest.
I wish I knew the outcome. I wish I could tell you that I'm strong enough to endure.
At this moment I am running on empty. God grant the renewal of strength to mount up like eagles…