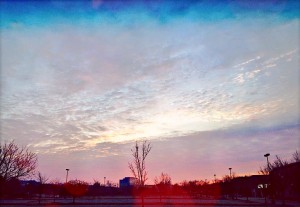 It's New Years Eve 2014, a day devoted to tomorrow.
It feels like I've been writing this post for days now, if not weeks and months. Since this is my final posting, I suppose it's been in the works all year long. I remember all too well the end of 2013, facing major changes and staring into the face of the unknown.
Welcome to the future. No hover cars or robot servants, and nothing else seems to be any different either.
After losing at least a week out of life to that horrible cold/flu bug sweeping the nation, the cold and cloudy grey weather and my aching body have finally given way to light and a semblance of life. The sky was a blue we haven't seen in ages, with thin clouds rolling in like ocean waves. It's colder, yes, but the sun is a welcome visitor even for one last day.
I'll join the rest of humanity and wonder where the year went. Highs and lows, many trials and a few triumphs…sadly this year the scale tipped far too often in the wrong direction.
While everyone is recounting the past and pointing hopefully to the future, I'll allow myself no such luxury. For me there is only now.
If you are fortunate enough to have had a great year, then I'll say congrats. As for the rest of us, all we can do is hope for better…but if I've learned anything from 2014, hope is a dangerous word.
For the first time in years and years, I don't have a damn clue what is in store for the coming year. As a believer, this is a very strange place to be indeed. I've searched Scripture for plans and promises, I've hurled prayers toward the heavens, and cried many tears of the hopefully hopeless. I've given in and given up. I've trusted time and time again, only to see hopes and dreams shatter into shards that have cut my spirit to the bone.
I just don't know what else to do but wait in the now.
It's been said that sometimes we can fail and fall so far that even the plans of God are nullified, or at least changed beyond recognition. I have fought this notion with every fiber of my being, but still the year comes to a close. Nothing has changed…
Maybe God gives the visions to those young and strong enough to make them happen, leaving the dreaming of past glory to the old. Maybe that's all the old can do…dream the dreams that give vision to the young.
And off there in the distance
The morning fire still glows
The promise of a dream that may still grow
And beyond this days horizon
Past the final pathway turn
The day has found its ending
Where Hope fights the darkness as it burns
Father, thank You for the gift of this moment. Be with us in every 'now' of the coming days…
Now I will wait for the new year and a new day. I have seen this days dawning, and now it's dusking.
Today becomes tomorrow…
And still I wait, and dream that it's not over.