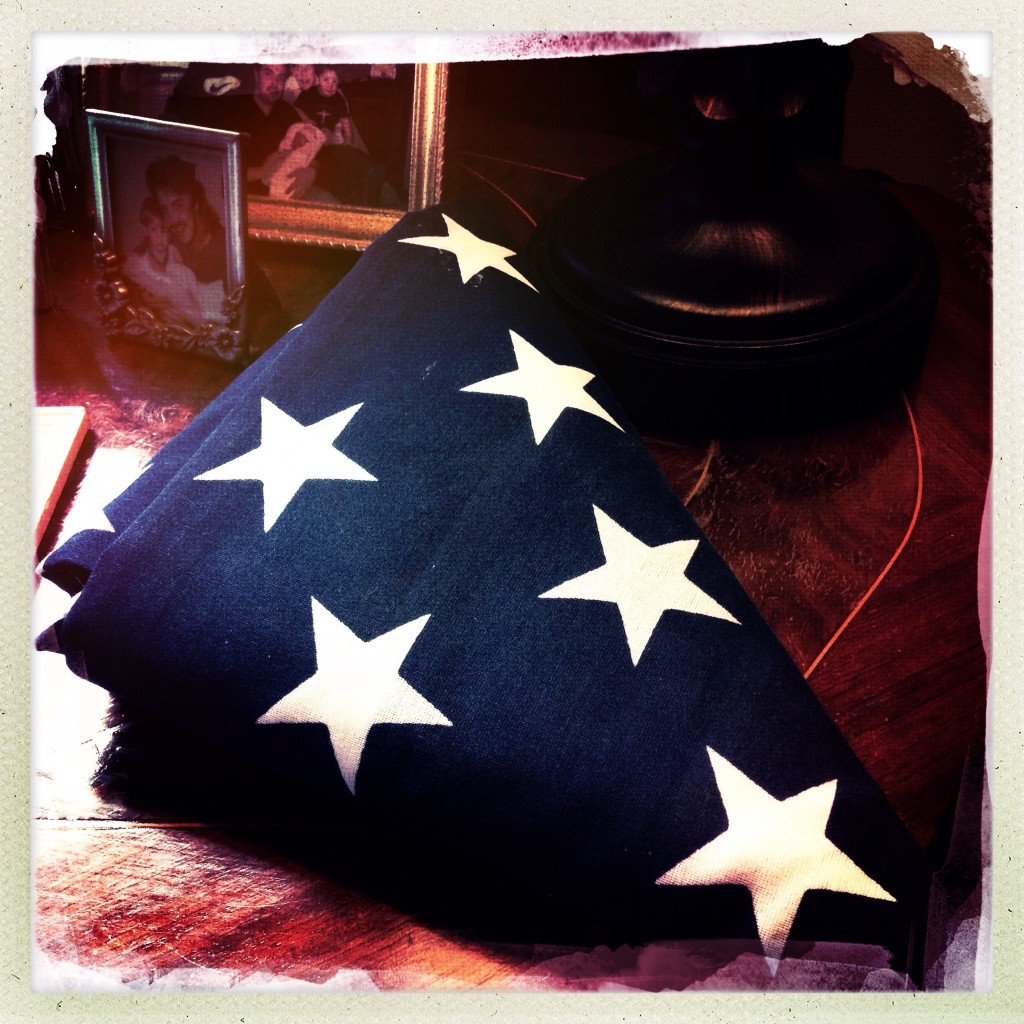 It is a day lived at half-staff, with images of flags draped across the lost and then folded away.
I have a folded flag and it always invokes a memory.
There is little I could add to the public memory on this 9/11 day. I remember where I was when planes crashed and towers fell.
We do well to remember.

But today my memories walked to a different place. I listened to sounds that evoked images and feelings, memories of life that prompted lyrics. Lyrics that merged with melody and became songs. Songs that move me still to laugh and cry and shout for joy and quietly receive grace and mercy. They left my grasp and went out to find their way in the world, to other hearts and other memories.
From time to time I'll take this journey, but it's been a while. It may seem self-indulgent to attempt to listen to one's own work. For me, it's partly an attempt to evaluate progress. It's also a vain exercise to listen as if I'm hearing for the first time.
Oddly enough on this day of remembering, it fell closer to the latter.
I was surprised by my own reaction. When people listen to music, they often tie a song or songs to times and places.
A first dance. High school graduation. Trips to the beach or the mountains or another special place. Your first love. Your wedding. The list is endless.
For the creator, songs are all these and more. The 'more' being what happened to inspire a lyric. The image that brought forth unbidden a melody from somewhere, to create something that had never before existed.
It's a incredible thing, memory.
As I walked and listened, chords and sounds and rhythms I know intimately became new. The flow of one song to the next achieved new significance. The choice of the final note that still rings in my memory I found devastating. I was slain and born new, wanting to lie still and reflect and run and conquer the world with my bare hands.
Later I sat in a restaurant, attempting to organize these thoughts and feelings into concepts I could at least attempt to share. The words wouldn't come.
I kept looking out the window to the patio eating area. Sitting alone was an older woman, quietly drinking a coffee. From time to time she would glance at her phone, not expectantly but from what appeared to be habit.
Her face was locked in a way I know all too well. Her entire being radiated lonely. She appeared to drinking from the cup of despair. What was haunting her thoughts? What sad song was underscoring her memories?
I struggled inwardly with my impulse to 'do' something. I felt no Holy Spirit freedom to engage. I resisted the urge to snap a picture, so I could remember her image.
Her visage is locked in memory. It is the image of a life as a folded flag.
After a few minutes, she quietly got up from her table and left.
Father, thank you for the gift of today. Thank you for songs of triumph and joy, of loss and life. Thank you for the gift of memories. We will remember all that needs our remembrance.
Thank you for how you are moving in my life. I remember all those things that would disqualify me from mercy, but have been covered by your grace.
I pray for the woman I saw. Move in her life today. Sing over her a song of mercy and hope.
Father, I don't want my life to be a folded flag.