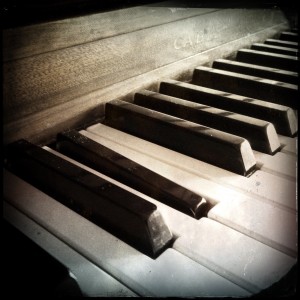 It was big and beautiful…a massive wooden box. There was a faint scent of lemon, probably the cleaner used to maintain this instrument. I had never seen one up close, let alone touched one.
It was my first encounter with a musical instrument, surprisingly, a piano. And I'll never forget it.
I climbed up onto the bench, and carefully opened the cover. Laid out before me was row after row of keys, black and white, arranged in a repeating pattern that I felt must mean something.
I'm not really sure how old I was. Eight? Nine? My mom needed to go see a friend, and I tagged along. They went into the kitchen to do 'mom stuff,' leaving me to my devices. I eyed the console piano in the front room. Mom must've seen me, and warned me not to touch. Her friend laughed and said I could play if I wanted.
So here I was…sitting at a piano. You have to understand, this was years before I even thought about playing the guitar…or any instrument for that matter. That wouldn't happen until the summer of my thirteenth year.
Growing up in the sixties the youngest kid of seven, music was always playing in our tiny house. Our little red record player saw near continual use. Beatles, the Stones, Petula Clark…these were our heroes, and it was great. We would trek to the neighborhood drug store where they sold 45 RPM records. None of us played any instruments, but it didn't stop us from pretending.
One summer Saturday I remember Melvin, Patty, and Cookie (my sister Marie) doing a 'concert' in our backyard. Some of our relatives had stopped by, so we actually had an audience. We sat our record player in the open window of a bedroom facing the back, and our older sister Donna played DJ. We 'played' every song off the Beatles second LP…"She Loves You" and "I Want to Hold Your Hand" were our big numbers, shaking our heads and strumming our brooms! We even bowed at the end of each song, just like the Fab Four had done on television. Hilarious to even think about it now. It was incredibly fun…the sound of joy.
But now, this was different. This was no broom or toy; this was a real musical instrument! I think I sat there without moving for the longest time. Finally, I found the courage to play a note.
It was glorious…
I stepped down on the pedals and wow! I was in Carnegie Hall! The echo turned that little front room into a cathedral of sound.
I was lost…
I must have been, as my mom and her friend had come into the room at some point to listen. I wasn't playing anything, just random notes…but the magic I felt must've spilled over into the kitchen.
And just like that, my encounter with playing music reverted back to simply listening. It would be several years later when the Spirit called, and then He dropped a guitar into my open arms.
Flash forward to now.
Watching the Grammy awards, I realized I've been doing music a long time. Like 'two score less one' long…thirty-nine years! That's how long music has been my passion and my profession.
Seeing all those musical legends, both old and new, brought these memories flooding back. The duet between Carole King and Sara Bareilles, singing and playing pianos…Ringo larking about on "Photograph" with his All-Starr Band, and then seeing Sir Paul and Ringo…yep, the tears flowed.
It reminded me that I've loved music longer than I've played it. The sheer magic of notes and rhythms and harmony and words melding into something so powerful that people laugh and dance and cry…only a Creator could plant this bit of eternity in the hearts of men.
I love music. And after all this time, I'm still lost in the wonder of it all.