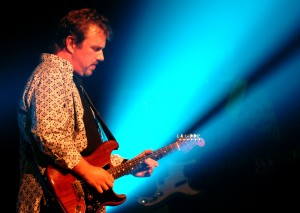 It's no secret that my all-time favorite group would be the Beatles. Growing up in the Sixties and Seventies (and the youngest of seven kids), some of the earliest songs I can remember hearing and liking were from that Fab Four from Liverpool.
I'm in my late forties now, but my love for all things Beatles hasn't diminished. Quite the contrary; age and experience have helped me uncover the depths to their music, and I can understand far better the layers in their lyrics. I tell young musicians often that if you want a musical education, just start with the Beatles' first recordings and listen to each LP in succession. It's amazing to hear the variety of sounds and styles.
On my "Spheres of Influence" CD (released in 2004), I took the advice of a good friend and took a stab at coming up with an instrumental version of the classic George Harrison Beatle track "While My Guitar Gently Weeps". I am so glad I did, too! For several years it was one of the first search results you'd find online for this tune… wow!
It's now been over forty days since my Dad passed away, and in that time I've been pretty much on 'radio silence'. Now, life has gone on and has finally resumed a semblance of normalcy (whatever THAT is in my world… lol). I have to admit that more than my guitar has been weeping during these days.
But the time for mourning is past, and we have work to do! I'm excited by the new tunes we've been writing and recording. And we're looking forward to playing them for you soon! We are planning some small not-quite-so 'secret shows' to give you a taste of what we've been up to… contact us if you are interested in attending one of these sneak peeks in your area.
Remember… Love is all you need!
GV